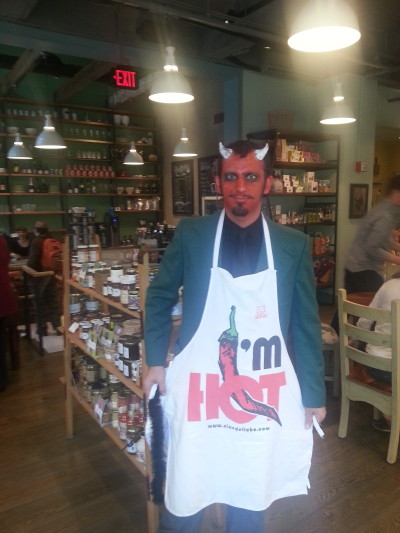 E vediamo se qualcuno si azzarda a non comprare i nostri prodotti negli USA! Halloween permettendo, è il momento di presentarvi il nostro Seth, ovvero uno dei titolari di Philly Italia, la società che ha appena cominciato la commercializzazione dei nostri prodotti (e di altri, Bellalavalle compresa)negli Stati Uniti. L'obbiettivo lo ha colto in una pausa di lavoro, durante una presentazione in cui, non a caso, ha fatto sfoggio di uno dei grembiuli disegnati da Sacha. Negli USA come in Italia i nostri prodotti e servizi si possono acquistare, ricordatelo, anche via Internet, andando sul sito www.italianpepper.us .
Non si può dire che non ne sappiamo una più del diavolo!
Yes, we did a pact with the devil to get finally in the USA!
Halloween was chosen as the best day to begin with our US import. This is Seth, one of the owners of Philly Italia, the company importing our stuff the other side of the Ocean. He is in the middle of a tasting, proudly dressing one of the aprons disegned by Sacha.
Our products and services can be bought also by mail, clicking on the site www.italianpepper.us.
Recently:
Place related post plugin php here...
- Post 1
- Post 2
- Post 3
- Post 4
- Post 5
- Post 6