English Translation at the End of the Story
I nostri amici barman ci hanno aperto un mondo! A dire il vero sarebbe una cosa ovvia: quando c'è caldo, si beve freddo (anche se, lo sappiamo, arabi e non solo amano il té tiepido con menta). Ma che la nostra grappa al peperoncino congelata fosse così buona proprio non ce lo aspettavamo.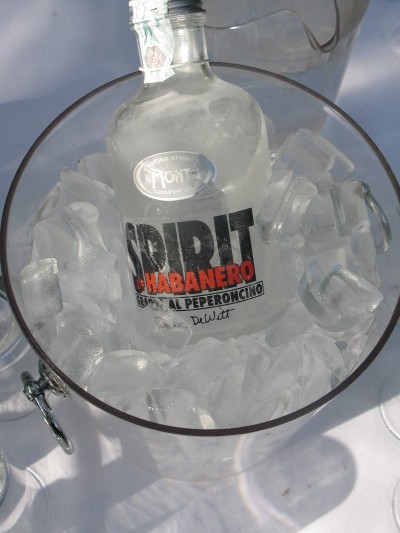 Abbiamo seguito il consiglio di chi già da un poco usa la nostra grappa come digestivo e l'abbiamo infilata nel freezer. Risultato? Molto meglio di una vodka: si sente la bocca ghiacciata e insieme calda, visto che la capsaicina del freddo se ne fa un baffo. Passato il freddo, rimane il sapore della gran grappa di malvasia che usiamo. D'accordo, ai puristi la cosa può fare un poco di senso: ma d'estate uno strappo alle regole ce lo si può ben concedere.
Ricordate, allora. Bere poco ma bene è sempre un dovere: d'estate bere poco, bene e freddo è pure un piacere.
Provare per credere!
Ps Per gli acquisti, scrivere a locanda@ninedellobo.com oppure passare in Ambasciata, a Salsomaggiore.
Our barmen friends have opened up a new world for us! Actually it would seem to be something very obvious: when it's hot outside, drink something cold (also if, as we know, Arabs and others love warm tea with mint). But we didn't really expect our "frozen"  hot pepper grappa to be so good.
We followed the advice of those who have been using our grappa as an after dinner drink and we stuck it in the freezer. Result? Much better than vodka: the mouth feels both iced and hot, seeing that capsicum couldn't care less about coldness. Once the cold has passed, the taste of the  great Malvasia grappa which we use remains. OK, it could be a bit much for the purists: but in the summer we can allow ourselves to bend the rules a bit.
So remember, then. Drinking little but well is always a must: in summer drinking little, well and cold is a pleasure as well.
Try it to believe it!
PS to purchase write to: locanda@ninedellobo.com
or pass by the Ambasciata, in  Salsomaggiore.
Recently:
Place related post plugin php here...
- Post 1
- Post 2
- Post 3
- Post 4
- Post 5
- Post 6